1 September 2021
Interview with Anne Bach Nielsen, postdoctoral researcher at COPE
Interview
Meet COPE postdoctoral researcher Anne Bach Nielsen. Nielsen's research explores disaster governance and climate change adaptation issues. She is currently working on the EU Horizon 2020 research project LINKS - Strengthening links between technologies and society for European disaster resilience.
What do you do at COPE? 
I am a postdoctoral researcher in the research project LINKS – Strengthening links between technologies and society for European disaster resilience - awarded by the EU Horizon 2020 programme. It is an interdisciplinary research project where scholars and practitioners from five different European countries come together to produce new knowledge and solutions for improved disaster governance. The project aims to explore recent innovations of information and communication technology (ICT) with a particular focus on social media and crowdsourcing. The project investigates how ICTs can positively impact disaster governance efforts across various disaster scenarios and strives to produce a management framework that can be used actively in preventing, preparing for, responding to and recovering from disasters. 
Tell us more about the LINKS project and what do you work on?
My role in the project is twofold. I co-lead the research that specifically addresses disaster management processes. The main task is to establish a comprehensive knowledge and tool base for assessing the potential use of social media and crowdsourcing in impacting management processes for organisations involved in disaster efforts. Moreover, I am part of designing and conducting an in-depth case study on climate adaptation in Denmark with a particular focus on flood hazards. Together with local practitioners and University College Copenhagen, my role is to explore and test how ICTs can be applied by authorities and organisations to advance their engagement with citizens and other actors involved in and impacted by flooding in Frederiksberg – a municipality located in Copenhagen.
Tell us about your work, before you joined COPE.
For my PhD, I investigated why and how cities take action on climate change through global network activities. I was particularly interested in understanding the role of municipalities and their increased engagement in transnational networks to facilitate climate action. Does this type of cooperation between municipalities impact the climate actions taking place on the ground? If yes, how? To answer these questions, I did fieldwork on three different continents and followed the implementation of network activities across Chennai (India), Porto Alegre (Brazil) and Vejle (Denmark). 
How has the past year been, starting your postdoc during the pandemic?
I both finished my PhD and started my postdoc during the pandemic. The transition to the new position has been as smooth as it possibly could be under the circumstances. I knew the university and also some of my new colleagues, which made the change easier to handle in a virtual world. Like most people whose work lives were substantially affected by the pandemic, I am suffering from virtual fatigue. The daily interactions with colleagues, travelling for seminars, conferences and workshops, teaching activities, face-to-face meetings and fieldwork. The LINKS project started in the midst of the pandemic and we have never met as a whole project team. Coordinating and keeping a positive attitude in a project with 16 partners and a large range of disciplines and professions is challenging. We manage to keep it going, but I am looking forward to meeting my colleagues in person.  
What are the next steps you are working towards on the LINKS project?
We are starting to collect data across the five cases we are working with: flooding in Denmark, a chemical spill in the Netherlands, terrorist attack in Germany, drought in Germany and earthquake in Italy. The data collection activities comprise both qualitative and quantitative approaches and will be a massive effort carried out in four different languages by local research teams.
Topics
About Anne Bach Nielsen
Anne Bach Nielsen is a political scientist with a focus on disaster governance and climate change adaptation issues. Her PhD project explored the rise of global city networks and cities' increasing engagement in global climate governance. It focused on how cities respond to increasing risks stemming from climate change and sought to understand how cities create new global spaces for urban policy-making and whether these spaces bring about new modes of governance and alternative approaches to the climate agenda. She is currently part of the EU project "LINKS - Strengthening links between technologies and society for European disaster resilience" awarded under the Horizon 2020 programme. It sets out to understand and assess the effects of social media and crowd-sourcing technologies on European disaster resilience. 
LINKS EU Project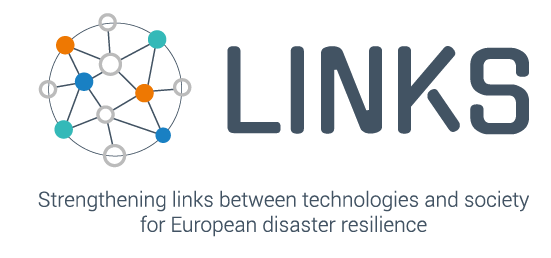 The LINKS project has received funding from the EU H2020 Programme under Grant Agreement No. 883490
Responsibility of this publication lies entirely with the author(s).
The European Commission (EC) is not responsible for any use that may be made of the information contained therein.